Home » Featured, Free
Learn Geography With Purpose Games
Was Geography class ever this much fun when we were kids?
Today's youngsters can challenge themselves and test their knowledge of geography right online. Learn Geography is an online geography website that empowers youngsters to master their knowledge and awareness of the world.
The way purposegames.com works is that when you first land at the website, you are presented with a series of different geography challenges. Each challenge varies in the degree of its complexity. Some challenges are very simple, for example, naming the seven continents. And then there are challenges for naming each of the states of the United States, the countries in various continents throughout the world, the capital cities of states, the capital cities of countries. And then there are even more complex challenges for advanced students of geography, such as games that teach you to associate longitudes and latitudes with various nations, localities within various different countries, state abbreviations, identifying what countries lie in between two others, identifying countries ranked by population, identifying the distances between various countries, countries ranked by size, and countless more.
In fact, there are well over thirteen thousand games in total, on this website! That is enough to challenge even the most knowledgeable person about geography.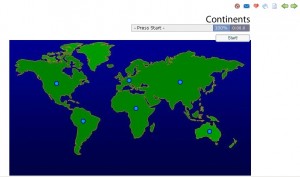 While this website is designed with children as the target demographic, it is without a doubt, something that even adults can enjoy. Many of these games are all timed quizzes. In other words, you can challenge yourself to see how quickly you can solve each geography quiz. See if you can best your own previous score. Or better yet, pit yourself against your friends or your colleagues to see who can complete a quiz in the fastest amount of time. When you complete a game, you can submit your score online to the quiz's online leader board, where you can see the top scoring people for this particular competition. Do you have what it takes to make it to the leader board?