Home » Free, Learning
Fun Interactive Encyclopedia For Kids
When most people think of an encyclopedia, what is the first thing that comes to their minds? Words, right? A typical encyclopedia is filled with thousands upon thousands of words, describing a myriad of topics in great depth and detail. This may fare well for people, from young adulthood and older. But what about young children? Children, perhaps even more so than adults, possess an insatiable thirst, curiosity, and hunger for the acquisition of knowledge. They are like sponges, absorbing as much information as they can about the world around them. This curiosity is innate. But their ability to comprehend things, let alone their ability to read and comprehend the complex words and sentence structures in an encyclopedia, is demonstrably not nearly as sophisticated as that of an adult.
A great way to bring the world of encyclopedic knowledge to a child would be to develop a fun, interactive encyclopedia for kids, online. One thing is true about many children, and that is that they are visual and auditory learners. They can create associations between ideas and concepts by seeing, by listening, and by doing, and not necessarily by merely just reading. That is where Encyclopedia Interactica comes into the picture.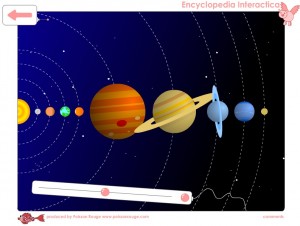 The Encyclopedia Interactica is a unique type of online encyclopedia geared specifically toward young children. What makes this online children's encyclopedia so unique is that there are absolutely no words involved whatsoever! The entire website is based on clickable, interactive pictoral modules. For example, if you want to learn about the solar system, you will see an animated diagram of the solar system, showing the planets revolving around the sun. You also have the ability to click on buttons and sliders on the website to interact with each module, so that you can learn more about each topic, interactively.