Home » Safety
Kidthing.com – A Safe Learning Environment For Children
Kidthing is a new fun, safe and (partially) free environment for kids. The Kidthing media player is free to download, and a number of free learning games, books and videos are included in the download or can be downloaded separately from the store (just search for the word "free" in the store search function). You can download the free stuff without giving out your credit card number.
Most of the content is not free however. Most games and videos cost 0.99, 1.99 or 2.99 USD. Books are typically a bit more expensive, with prices ranging between 2.99 and 5.99 USD. All activities on Kidthing are, of course, ad free, and they all appear to be of high quality.
Much of the content is created by leading content creators. You can find well-known names such as Dr Seuss, Garfield and Guinness World Records in the store. At the time of writing (July 2009), Kidthing is still in beta and runs under Windows. A Mac OS version will soon be available.
You can read a review of Kidsthing on the site Crazy Kids Chicago.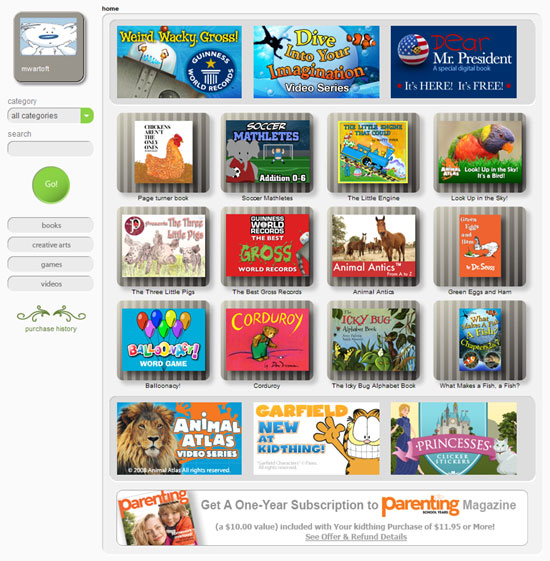 Browsing the Kidthing virtual store.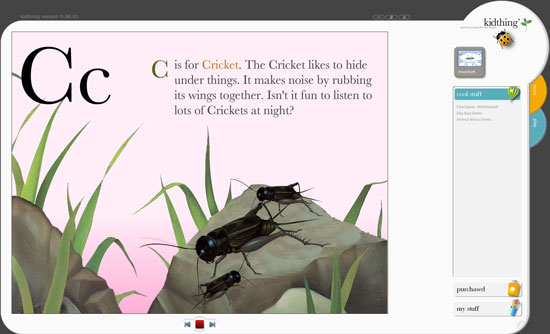 Reading a digital alphabet book on Kidthing.