Home » Just For Fun
FooPets – Adopt A Puppy Or Kitten
Foopets.com is a site where you can adopt a virtual cat or dog. The pets are very cute and realistic looking, and need to be fed, petted and played with just like a real pet. In order to earn money to get food and toys for your cat or dog, you can play online games.
There are many breeds of cats and dogs to choose from in this game: Siamese, Persian, Poodle, Golden Retriever, Dalmatian, Rottweiler and many more.
The site also has an active pet forum where you can chat about your virtual pets, or perhaps even about your real pets.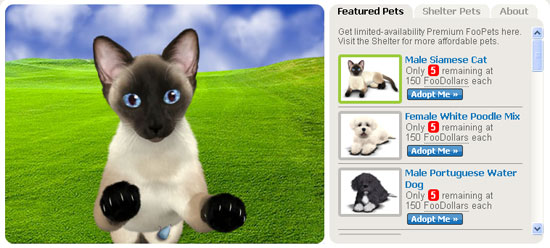 Some adoptable animals on the site Foopets.com