Home » Just For Fun, Virtual Worlds
Meet New Friends On Club Penguin
Clubpenguin.com is a social network site and virtual world for kids. Your child can create a penguin of any color for free and let it waddle around in the snowy penguin world, making new friends.
A basic membership is free, but you can upgrade to a paid account for $5.95 per month, giving you access to more exclusive items, games and events.
Each player has an igloo to live in, and can purchase a larger igloo using virtual coins. Penguins can also adopt a number of pets, also called puffles. There are eight different breeds of puffles with distinct personalities.  Members can also play mini games to earn money, or act out plays.
Read more about Club Penguin on Wikipedia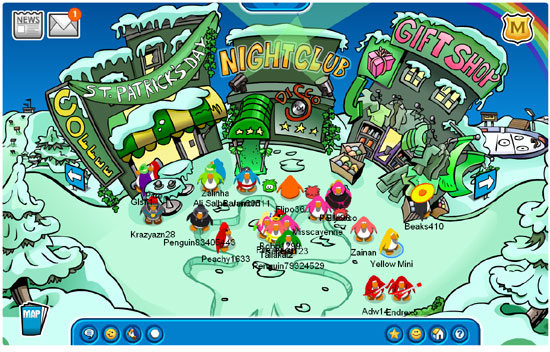 A town in the Club Penguin virtual world.